Multiple Categories
Boarding, House Sitting, Dog Walking, Doggy Day Care, Drop-In Visits

GPS Tracking
GPS technology to let you know exactly when and where your pets are being cared for

Manage Booking
We make it simple for you to help your audience book and make secured payments through our website or app.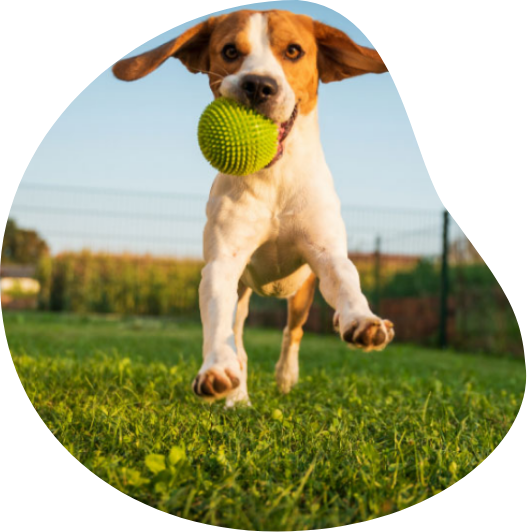 PetCare Mobile App
The best petcare app for dogs & cats lovers
Find best pet professionals near you

Read verified reviews by pet parents like you and choose a sitter who's a great match for you and your pets.

Set up your free Meet & Greet

Set up a successful Meet & Greet with your new pet care, pet sitting, and dog walking clients.

Travel with peace of mind

It is important that your pets have been left in safe hands when you leave for a trip. For total peace of mind, start planning for your pets as soon as you begin
Services for every dog and cat

Puppy Sitting
While you're away we can make sure your pet has all the food, water, exercise, and, of course, attention, they deserve.

Pet Daycare
We chase the absolute highest standards of safety in everything we do! Our goal is to make sure all pups in our care are happy, safe and comfortable.

Overnight Care
If you're away for the night, we can stay the night or stop by in the evening and morning to take care of all your pet's needs.
Ready To Launch Your On-demand PetCare App?
A pet health care app aimed at finding vets and animal hospitals near you classifying and listing reliable vets based on your search.
Get Started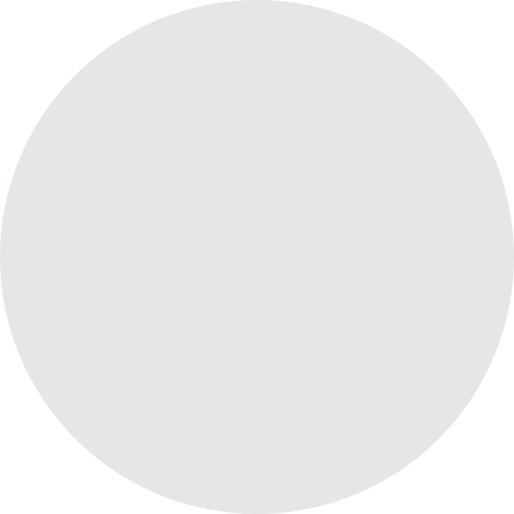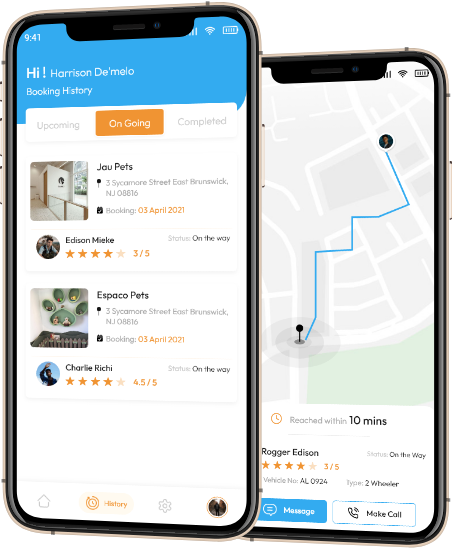 User App
Your pet care needs — from training wisdom to medical advice — all in the palm of your hand
Find a daily dog walker or a cat sitter. Stay connected through messages, and tag along on walks with GPS tracking. Find nearby agents through Google place APIs according to current location.

Caregiver passes an enhanced background check, our services are insured, and support is standing by around the clock.

Search worldwide for dog-friendly hotels, restaurants, parks, and more, so you can bring your furry family member on the adventure, too.
Get Started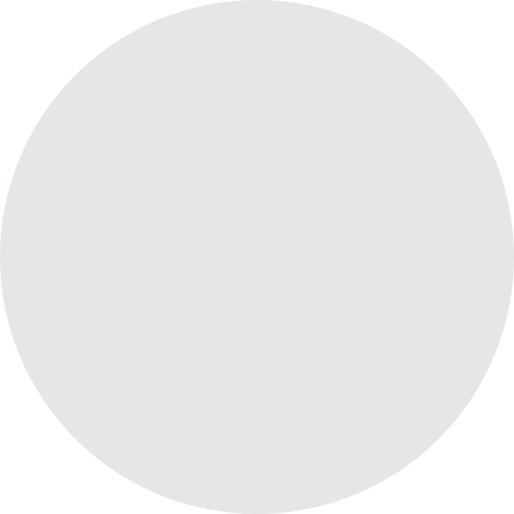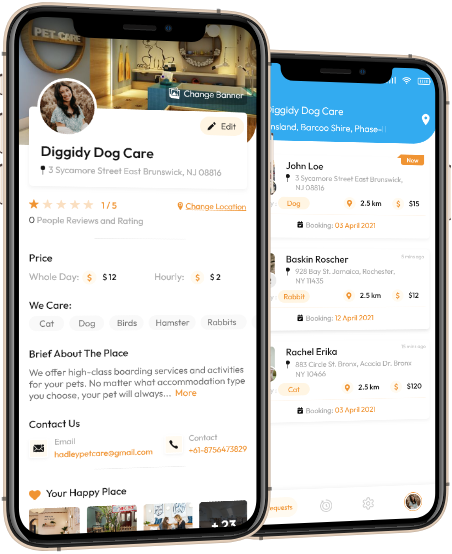 Agent App
Schedule Pet Agent for your lovely pets
Agent is hired by Customor to provide pet care services, instant bookings, last-minute requests, and schedule changes.

Can chat with drives and Customers for better services so pet parents can know the pet sitter before their first service to be sure that they are a good fit.

Tracking the drivers on the Map. Using GPS tracking, you can see where your dog walker and dog are going
Get Started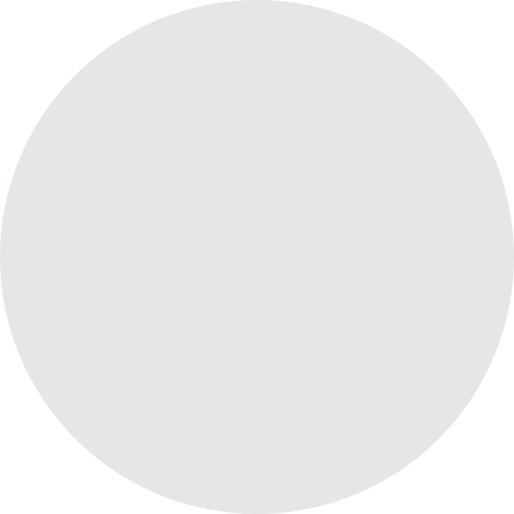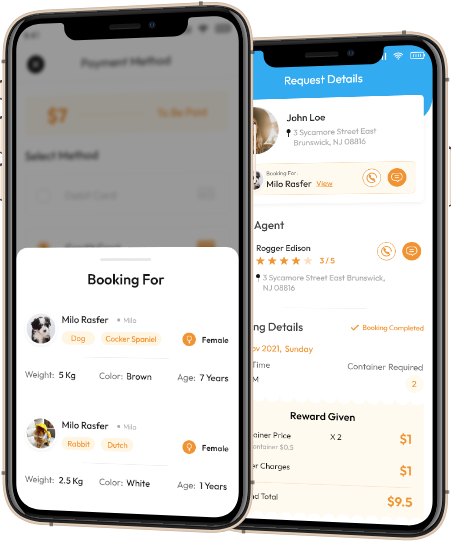 Driver App
In Hurry? Get in touch with the pet care drivers
You can accept and decline the nearby requests to pick up and dropoff the pet. Easy option to cancel any ride you don't feel comfortable with.

Can search nearby and best route by using Google maps to reach clients. You can even plan a route for many locations using Google Maps.

Complete your job, get good rating from your customers and earn the amount according to good rating given by customers.
Get Started
Why PetCare?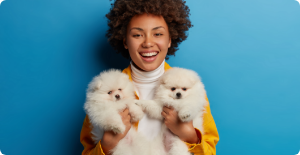 Here when you need us
To ensure your pet's health and happiness increase opportunities to exercise, get outside, and socialize. are the necessities that all responsible pet owners need to provide.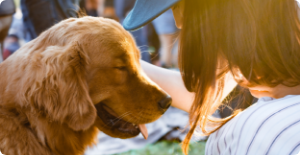 Safety is serious business
Proper pet care also includes exercising your pet. Exercise is an important part of your pet's mental, as well as physical, health.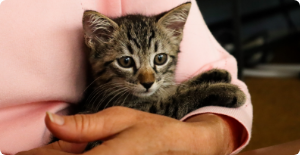 Simple Reservation Online
Make easy scheduling of appointments and classes with pet care providers. Schedule appointments with ease using flexible appointment scheduling in Picktime.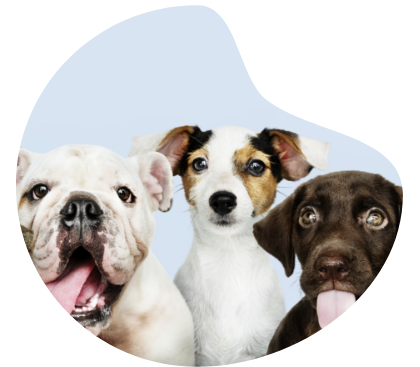 When you need to hire a pet sitter, a groomer, a dog walker, anyone – PetCare finds them for you for free.
Get Started