Outsource Flutter App Development
Flutter is an open-source mobile application development framework developed by Google. Flutter is a mobile app SDK offered by Google to the world of cross-platform app development for creating rich and fluid native interfaces for both iOS and Android-powered by Google.
Flutter is robust and reactive with widgets and tools that allow the building and deployment of UI with animations and a single codebase that works for both iOS and Android platforms. All in all, it offers best Cross-Platform App Development by keeping single codebase.
Through our Flutter App Development services, we are giving businesses flexibility, Platform Specific Customization using a Single Codebase, and an expedited app development process. We have been the best cross-platform app development company in India. Having said that, we have the most knowledgeable & experienced developers be it Java development, Android, iOS development or any other app development. At Paras Technologies, we believe in quality work and so are setting trends as Flutter app development company.
Benefits of Flutter App Development
Single Code Writing
With Flutter app development it is easier to operate in both Android and iOS with a single codebase. It's a cross-platform tool intended for creating Android and iOS apps from a single code base by using a modern, reactive framework.
Fast Development
Flutter means more dynamic and faster mobile app development. Code changes made in Flutter are reflected as soon as the changes are made, with features like hot-reload. Flutter gives you an easy to use app with tight security and defensive patents.
Faster Running Applications
Flutter applications are smooth and fast, they work without crashes to create a better user experience. Flutter provides great performance profiling tools like: Dart DevTools and Flutter Inspector to measure the app performance.
Absolute Native Performance
Flutter's widgets assimilate all critical platform differences such as scrolling, navigation, icons and fonts to give a full native performance on both iOS and Android devices.
Better User Interface
Flutter framework helps to build stunning and impressive user interfaces. With built-in design-centric widgets, high-end development tools, advanced APIs, scrolling and navigation features, etc.
Less Testing Work
The testers do not always require to run the same set of tests on different platforms, such as Android and iOS, for the same app in this case as Flutter apps are cross-platform. This saves the time of the testing team.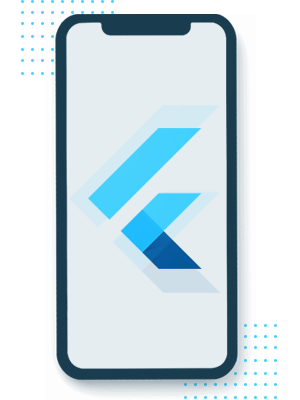 Why Hire Us?
Team of 20+ dedicated Flutter developers
Experienced designers to create appropriate user interfaces
Implement high-quality solutions on cross-platforms in record time
Use expressive and functionally-rich widgets
Front-end team: Quality Analysts and Testers
Free 1 month technical support and maintenance by our experts
Discuss Your Project