Outsource Hybrid Mobile App Development
Hybrid applications have all the native app features and capabilities, these apps allow developers to adopt HTML5 mobile app development and write code for a mobile app once and still accommodate multiple platforms. The writing part of hybrid app's uses HTML5, CSS3 and JavaScript, giving them the ability to reuse it across multiple mobile operating systems. The device's browser is used to render HTML and JavaScript and native APIs to access device-specific hardware.
For users, native apps and hybrid are nearly similar to each other, both are launched in the same way, downloaded from Apple's App Store or Google's Play, and stored on a mobile device.
Features of Hybrid Applications:
We bring together Javascript, HTML5 and CSS3 with the latest frameworks such as PhoneGap, Xamarin, Appcelerator Titanium, Sencha to develop Hybrid applications for our clients.
Hybrid apps don't need a web browser like web apps.
Integration with the mobile device's file system.
Integration with Web-based services.
Only one codebase is needed for hybrid apps.
Our Hybrid App Development Services Include
Hybrid App Development
We guarantee 100% customized hybrid mobile applications that work efficiently across multiple devices. With the team of 60+ dedicated professionals we are helping our clients reach out to a wide range of audience in the quickest possible time. Our developers have appropriate knowledge of HTML5, CSS3, Javascript, and other technologies to offer highly responsive and user friendly hybrid applications.
Hybrid App Design
The designing experts at Paras Technologies, ensures the development of hybrid application with visually pleasing user-centric designs to attract users to downloads. We pay close attention to every step of the app design process, from understanding your product vision to prototyping to user testing. We guarantee lightweight and powerful application featuring seamless features.
Hybrid App Testing
Our Quality analysts are equipped with the best devices and tools that save the testing time and cost both.We test hybrid applications immensely and conduct timely code reviews, create testing plans before launching the final product to deal with the crashes, debug issues, check the performance of applications and tune them for optimal results and to create a better user experience.
Hybrid App Maintenance & Support
You may contact us by phone or video call, chat, via email, we are always at your service. Our services ensure optimized performance of hybrid application, we reduce the application downtime and maximize availability to end users. Our maintenance and support services help to focus on core business objectives and removing the distractions from user's end. We offer 24/7 technical support to our clients.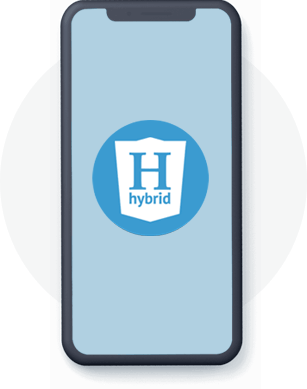 Why Hire Us?
Use of powerful JS, HTML5 and CSS3 languages
Cross-platform/multi-platform app development
Knowledge of open source platforms such as PhoneGap, Appcelerator, Sencha, Kendo UI, Adobe Air, QT etc.
Enhanced access to device features and capabilities
Interactive interface/ High performance
Front-end team: Quality Analysts and Testers
Free 1 month technical support and maintenance by our experts
Discuss Your Project