Outsource Android App Development
More than 1 million Android apps have been developed till today and the number will soon increase in the future. Android is a big market to show up creative, innovative and unique ideas. With the increasing number of Android devices in the market and the adoption of Android by almost all mobile manufacturers, Android application development has become an unavoidable service. We have a well trained and experienced team at Paras Technologies that render world-class results when it comes to android application development services.
Our Android developers are skilled at developing high-performing and user-friendly apps for mobile phones. We offer custom android app development services to help our clients enhance the productivity of their organization. Our firm has proficient Android application developers who are customer oriented and flexible in terms of service they provide. We always use agile methodologies to ensure high quality and cost effective products on time according to customer's expectations. We will take your app ideas to a new level.
Our Android App Development Services Include

Native and Hybrid Apps
We help clients with the development and designing of both native and hybrid apps. Hybrid apps are build using HTML, CSS, and Javascript, whereas, native apps are build using specific technology like swift for ios and Java for Android.

Сustom Android App Development
Our team provides mobile app design and development services to develop custom intuitive applications. We encompass the complete range of devices, including smartphones, watches, tablets, and Android TVs.

Enterprise Android App Development
Our Enterprise app development services focus on the factors such as usability, visual design features, programming, security, and quality assurance. From idea, development, UI/UX design,and maintenance, we fully collaborate with our clients.

Mobile Commerce Android App Development
With our services we help businesses to get potential customers through mobile devices looking for products and services. mCommerce is now a business trend as nextgen e-commerce. We help improve customer experiences on mobile devices.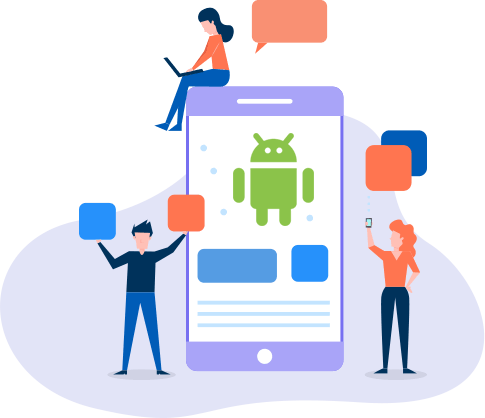 Why Hire Us?
Specialized Android Developers with 10+ years of experience
We follow process that minimizes risk, maximizes velocity, and promotes transparency
Front-end team: Quality Analysts and Testers
Our app development services include UI/UX, testing, and technical assistance
Google Play store Submission, app listing, optimization, logo, and more
Free 1 month technical support and maintenance by our experts
Discuss Your Project